Sonia Dridi
Egypt correspondent of

France 24 television channel has reported being the subject of a
sexual assault
while in the central Tahrir Square in Cairo.
According to his testimony, the reporter was
intimidatingly surrounded by a large group of men, mostly young, when he spoke live
for 24 hours French channel.
The attack lasted for several minutes, until a friend intervened and got her out of the square.
"They grabbed me everywhere. Later I realized that someone I unbuttoned his shirt, which was open but not broken
. Avoid the worst by wearing a thick belt and the help of a friend, "he acknowledged.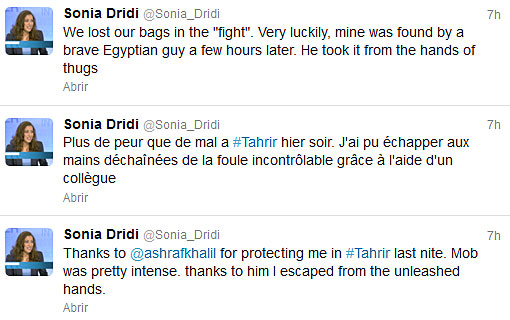 Impressions of the reporter in her Twitter account.
The journalist has stated it will file a

complaint

, though aware that in similar situations Egyptian police did not intervene to stop the perpetrators of abuse.

In the streets of Cairo, the

harassment of women, with or without a veil, obscene comments and rude gestures are a common phenomenon

.

Recently, however, a fact that sexual assault and rape cases in the vicinity of Tahrir Square are many, but local authorities failed to respond. Last June, a group of men attacked and sexually assaulted several protesters during a march denouncing precisely sexual harassment in Egypt.

These attacks have become especially relevant media after the attack on the square to the U.S. journalist

Lara Logan

, which occurred on February 11, 2011, the day he

resigned

his position on President Hosni Mubarak.